April Birthday Wishes!!!!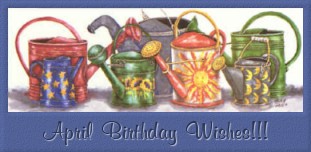 ~ANNOUNCEMENT~
We have a new volunteer from Southern Women Webring who has graciously
volunteered her time and talent to help with theBirthday and Anniversary Pages.
Aquarious/Jean has done a marvelous job on our pages....she has really devoted
extra time and effort to this cause. Thank Jean!!!!
These pages are always a 'work in progress' so book mark this page!

Remember to wish these special Southern Sisters 'Happy Birthday'
Make their day special!!!
Please April Birthday Members...grab this Birthday wish
from Sweetmamapam and Louise!!
Also below is a list of April Birthdays for this month. Included are the
homepage link and the email.
If your birthday is NOT here and you wish to be listed on the
Southern Women Birthday Page Email Jean here:
The Southern Women Birthday Pages and Anniversary pages
are available at :
---
**Special Notice about Changes at Webring Org!!**
Webring Org has implemented a new "Auto Ring Check" function that began operation in March. Several of the sites in Southern Women have experienced the growing pains of our new Auto Check. We have tried to get these sites corrected and back in the ring as fast as we could.
You can help!!
If all ladies would check their Southern Women Webring fragment this would help tremendously. Just be sure that the links are all correct, that you have the correct site ID# in your fragment, and that your current email is in the fragment.
Editing your site is quite simple:
Go to the Southern Women Site ,
Scroll down until you find EDIT MY SITE.
You will need your SITE ID# and your password to EDIT.
From this link you can change 'any part of' or all your information.
If each lady would check her Webring Fragment then we would have a near perfect ring. It would save us valuable time and effort. We now have 300+ sites in the ring and anything to facilitate our efforts will be appreciated!!
**Also please note that any site in the queue for over 7 days is automatically removed.**

Southern Women Webring!!
New Members!!
A 'New Look' for the Webring
or
'The graphic Addict strikes again'...HeHe.
YES...you read that correctly..*S*. Southern Women Webring's graphic addict has HIT again...*S* The website has been completely revamped. New Logo and new fragment graphics (in different colors I might add)...*grin*. You may visit the Southern Women Website and see for yourself. If you wish, you may grab the new ring fragment and logo. THIS IS NOT A REQUIREMENT. I am so fickle that no one should have to keep up with my wild hairs...LOL
Welcoming Committee!!!
Thanks to 6 ladies in our ring who are always
there to make a new member feel welcome.
Misscrafts (aka Cyndie)
MAry Bear (aka Mary)
Aquarius (aka Jean)
Headladee (aka Annette)
Bosslady (aka Delwyn)
Serena (aka Rena)
We applaud you!!!
We have some Brand spanking new members in
the Southern Women Webring.
Let's all go sign their guestbook and welcome them with that good old Southern Hospitality!!
If we overlooked any site please let us know and we will include
it in the next newsletter.
---
WOOHOO!!!
Virtual Quilting Bee!!!!!

has come up with some exciting and new
programs and activities for the webring!!
The newest one (and one that we think will be exciting and fun )will be
our Belles and Beau Quilt.


Our Belles and Beau's quilt is a place to spotlight your kids, and or grandkids! Just go to PSP or your graphics program and make a quilt square 100x100 in size with your childs name on it and any special background you wish. Please be sure to provide a 'link' to either your family pages or your homepages when you send in your 'square'. We will link them all together in one big "quilt" over the next couple months and then publish the final quilt in the newsletter. (If you have any questions please feel free to email us and we will help you out) This quilt will promote your Family pages and your loved ones. Please make this a success !! The quilt will be available on our Southern Women Webring site when it is finished!! So get those squares in!!! We are having a virtual quilting Bee!!!
Get the latest on Louise's new program and the ones that are ongoing
by clicking on Swampys gator!!
Or Click
HERE!!!
This is YOUR newsletter ladies and your contributions Count!
If you have anything you wish to include in next month's newsletter whether it be a tribute to someone that has been extremely helpful to you,an award your proud of, a new page, or a grandchild. Please drop us an email and your announcement will appear in the next edition.
[Front Page][Kids Page][April Programs][Awards page][Confederate Memorial]
[Members Page][Recipe Page][Southern Writers]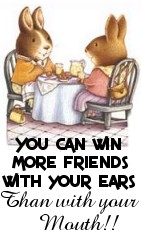 Happy Easter, Ladies!!
Enjoy the Spring Season
Have good health
God Bless!!
Southern Women Webring News
All Rights Reserved
April 2000